Catherine Corona (Cora) Morrissey was born in Carrick-on-Suir on January 17th, 1942. She was the eldest daughter of Biddy Phelan and Willie Morrissey of Castleview, Waterford Rd., Carrick-beg, Carrick-on-Suir. Her younger siblings were Aileen, Tom and Geraldine.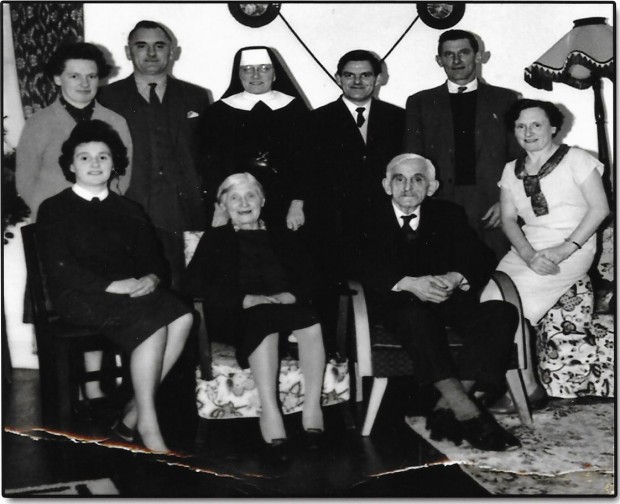 The Phelan Family
Back Row L-R Patsy, Michael, Peggy, Patrick, Seamus
Front Row Kitty, Ellen, Con, Biddy
Cora was educated in the Mercy Convent, Carrick-on-Suir and later in the Ursuline convent in Thurles, Co. Tipperary. After leaving the Ursuline Convent in Thurles, Cora did a commercial course in the Lorretto College  in Crumlin and subsequently joined the staff of Arthur Guinness & Co. in St. James's Gate, Dublin where she was employed in the Work Study Department.
I was born in Cork on April 7th, 1941 as the eldest son of Edward (Dow) Dowley and Betty Roche of Piltown, Co. Kilkenny. My younger siblings were Frank (RIP), Raymond, Gillian and Peter. My initial education was in Piltown Boys National School. I was then  sent to stay with my maternal grand-parents in Cork where I attended CBC.
In 1950 I returned to Carrick-on-Suir to continue my education. The first year was spent in the Green School while the next two years were spent in the CBS (or Monastery as it was called) where all subjects were taught through Irish and the Queen's English was even forbidden in the playground. During this period I cycled to and from school every day while I seemed to spend my nights equally divided between the Tower House and Castlane. The summers were divided between Piltown, Castlane and Crosshaven where I first learned to play tennis and swim.
From September 1953 to June 1959 my education was continued as a boarder at Castleknock College, Dublin. At that time there were no mid-term breaks and you only got home for the Christmas, Easter and summer holidays. The highlights of my period in Castleknock were winning the Leinster Schools Junior Tennis Cup in 1956, winning the Leinster Schools Senior Rugby Cup in 1959 and captaining the school's athletic team in the same year.
The association with Castleknock College dated back to my great grand-father's family and was further strengthened by my grand-uncle, Fr. Tommy Hickey, who was the bursar at the college for many years and later retired to St. Pauls College, Sybil Hill, Raheny. Myles Dowley of Tybroughney was also a Vincentian and Fr. Philip Dowley of the Ballyknock Dowley family was founder of the college
As a coincidence there was also one other winner of a Senior Schools Cup medal from Carrick-on-Suir. This was Tom Cleary who later captained Munster and was a sub for Ireland on many occasions, but never got an Irish Cap. We were cousins through the Hickeys.
School Cap and selection of medals won by Leslie Dowley
The following letter was recieved the following week from my gand-uncle Fr. Tommy Hickey who had been burser in Castleknock for many years and was retired to St. Pauls College, Raheny at the time of the final on March 14th, 1959.
St. Pauls College,
Sybil Hill,
Raheny,
16-111-'59
Dear Leslie,
                  I want to congratulate you on achieving what must be the great ambition of any schoolboy – the medal awarded to the members of the winning team of the Senior Schools Cup. I am glad to see you got honourable mention in to-day's account of the match in the Irish Times.
                 Though aunt Molly and I kept a sharp lookout for your daddy & mammie on Saturday we failed to locate them. If I had contacted them I would have accompanied them to to C'knock after I had dinner, but I did not know where they had gone to. I got a most pressing invitation from Fr. Walsh and Mick Dunne offered me a lift out, but I did not want to go alone. I suppose you had the usual hooley.
                  I enclose a copy of the menu for the 1944 dinner to the team. It was not held until after Easter. It is autographed by the members of the team & it's chief interest lies in the fact that you have the autograph of your trainer, now Fr. O'Donoghue – the out-half. This team only produced one international Ray Carroll. I can't the 1947 menu but it was exactly similar in make-up.
                  I presume you will have the usual three days tacked on to the Easter vac. It is a worthwile ending to your years in Knock.
                                                         Yours devotedly,
                                                           Uncle Tommy
As Willie Morrissey was a Director of Edward Dowley & Sons Ltd, Cora and I were acquainted with each other from our early teens. Our liaison would have been considered semi-permanent, at least during our final years in secondary school. When in Castleknock I received regular correspondence from the Ursuline Convent wrapped in the Munster Express to avoid detection. Her subterfuge was eventually uncovered by the Dean, Rev. Paddy O'Donoghue C.M., who kindly informed me that I hadn't as much sense as could be placed on the top of his master key.
Summer holidays were largely divided between working on the farm for grandfather and tennis. The tennis could consist of up to seven tournaments per summer but was usually much less. It normally started with Carlow Open Week and then going on to Kilkenny, Clonmel, Waterford, Sundays Well, Tramore and Rushbrooke.
Looking back over the first 18 years of my life, probably the most unusual aspect was the little time that I actually spent with my biological parents. The reason for this is not clear to me but may have been related to mother's many miscarriages or to marital problems brought on by alcohol. As a child I don't recall questioning this state of affairs as I was having a very pleasant childhood and of course I did not know that any other childhood was possible.
After leaving Castleknock, I spent 4 years studying for an Agricultural Science degree at UCD. After the third year exams I was awarded a scholarship which helped to defray the cost of university education. On graduating with a B.Agr.Sc. (Hons) degree in 1963 I studied accountancy for a year before joining the staff of the newly formed Agricultural Institute as a plant breeder/pathologist at Oak Park Research Centre (Carlow) in 1964. I then spent the next year at TCD studying genetics under Professor George Dawson. I subsequently spent another year at the Scottish Plant Breeding Station in Pentlandfield studying the genetics of disease resistance in the potato (Solanum tuberosum).
Leslie Dowley, son of Edward and Elizabeth Dowley of Tower House, Piltown, Co. Kilkenny and Cora Morrissey, daughter of Willie and Biddy Morrissey of Castleview, Waterford Rd., Carrickbeg, Carrick-on-Suir, Co. Tipperary were married in Owning Church, Co. Kilkenny, on September 10th 1966. The celebrant at the marriage was Fr. Myles Dowley C.M. of the Tybroughney Dowleys. The best man was Mr. John Shelley who was the agricultural adviser with Edward Dowley & Sons Ltd. The bridesmaid was Miss Aileen Morrissey while the groomsman was Mr. Larry Ginnell. The ushers were Mr. Joe Fitzgerald and Mr. Liam Duff. The attendants were Mr. Peter Dowley and Miss Geraldine Morrissey.
The reception was in Killcoran Lodge in Cahir and the honeymoon was spent in Illetas on the Island of Majorca. On getting married, Cora was forced to retire as it was illegal for a married a woman to continue working at that time.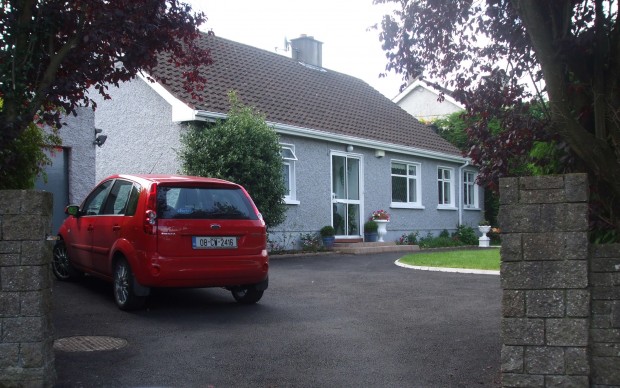 The Carlow Dowleys first house in Iona Drive 1966-1974
Our first house was in Iona Drive, Carlow which was bought for £3,350 (how times have changed). We had five children. Douglas and Robert were born on July 17th 1967, Susan on September 29th 1968 and Tanya on April 20th 1971. From 1972-1974 I spent a sabbatical period in the University of New Hampshire, USA where I completed a thesis on "Ontogenetic and environmental predisposition of tomato foliage to infection with race 0 of Phytophthora infestans (Mont.) de Bary". Lesley was born on June 29th 1974 in Durham, New Hampshire, USA when I was on sabbatical leave.
While in New Hampshire we were lucky to have some of Cora's relations living in Boston. Richard White had married Johanna Denn (Cora's relation) and originally emigrated from the slate-quarries outside Carrick-on-Suir in 1901. We frequently visited their son Bill and his wife Alice and their extended families in Weston. These were very enjoyable visits especially at Thanksgiving, Christmas and the Super-Bowl final. We were also friendly with Tommy and Mary Makem and I became an occasional chauffeur for Tommy when he was performing in Salem.
No. 7 Braganza, Athy Rd., 1974-1982
Following our return from the USA in August 1974, we moved to No.7 Braganza on the Athy Rd. in order to accommodate the increased family number. Six years later we moved to No. 1 Braganza which had a lodge as part of the garden. The idea was that my mother (Betty) was to come and live with us in Carlow. When mother refused to relocate to Carlow, we moved to Oak Park in February 1991 and are still there in 2019. In 1975 we bought a summer house – "Cove Cottage" – in Dunmore East, Co. Waterford.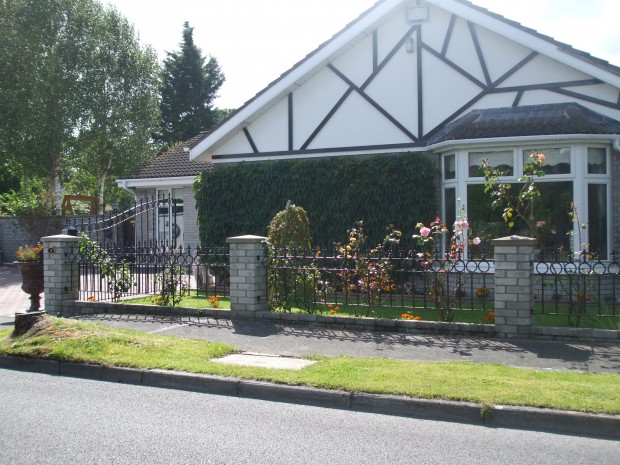 No. 1 Braganza, Athy Rd., Carlow 1982-1991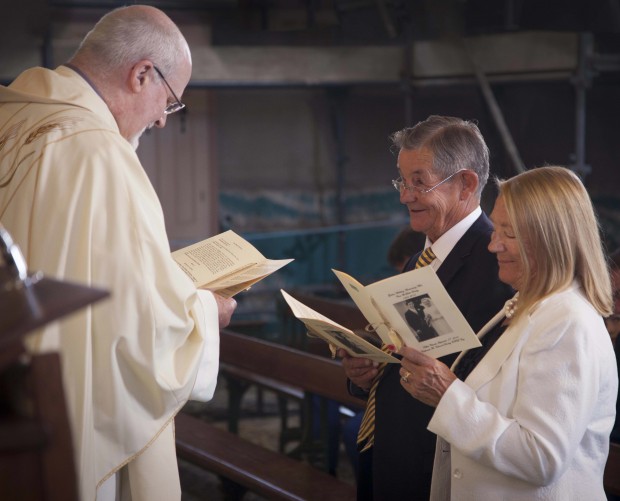 Fr. Eddie Dowley celebrating the 50th wedding anniversary Mass in Killea Church, Dunmore East on September 10th, 2016
Extended Dowley family, Cove Cottage, Dunmore East September 10th 2016.
Back Row: Bill Hogan, Jim Oliver, Orla Dowley, Aileen Coad, Rod Lewis, Carolyn Dowley, Gillian Hogan, Peter Dowley, Geraldine Morrissey, Padraig Whelan, Marmie Morrissey & Tom Morrissey. Seated: Robert Dowley, Tanya Oliver, John Shelley, Leslie Dowley, Cora Dowley, Fr. Eddie Dowley, Susan Lewis, Lesley Whelan & Douglas Dowley.                                                                    Second Row: Jennifer Dowley, Sarah Dowley, Alex Dowley, Matthew Dowley, Lauren Whelan &  Evan Dowley.                                                                                      Front Row: James Oliver, Aaron Oliver, Jack Dowley & Andrew Whelan.
Douglas and Robert were both educated in Askea primary school in Carlow and later in Castleknock College, Dublin. After leaving school the twin boys attended UCD, Douglas doing a B. Comm., while Robert did a BCL degree. Both subsequently studied chartered accountancy, Douglas with Coopers & Lybrand and Robert with Arthur Anderson.
Susan, Tanya and Lesley all attended Askea girls primary school and later attended St. Leo's Convent of Mercy in Carlow. Susan did an ESS degree in TCD while Tanya did a BA and a diploma in busniness management in UCD. Lesley studied veterinary nursing in Dublin.
In their first year Robert stayed in Hatch Hall while Douglas was in digs in Stillorgan. In their second year we purchased an appartment in Cranford Court, opposite Belfied with a view to reducing the costs. We were lucky that all five children persued third level education in Dublin and all stayed in Cranford Court at some stage during their studies. This was a particularly judicious investment as it dramatically saved on accomodation costs and eventually resulted in a significant capital gain on disposal of the property.
Robert married Orla Butler from Thurles on the 17th of April 1995 and they have three children, Jennifer, Sarah and Matthew. Robert is currently a tax partner with KPMG while Orla originally worked with Bank of Ireland Private Banking but is now a housewife. They live in Belfield, Dublin with a summer house in Dunmore East, Co. Waterford.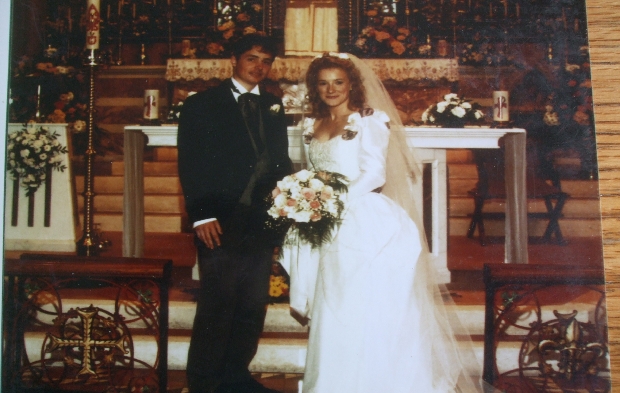 Douglas married Carolyn Marren from Dublin on the 6th August 1999 in Dublin and they have three children, Alex, Evan and Jack. Douglas is the Chief Operating Officer with the National Digital Research Centre (NDRC) while Carolyn is a teacher. They live in Portmarnock, Co. Dublin.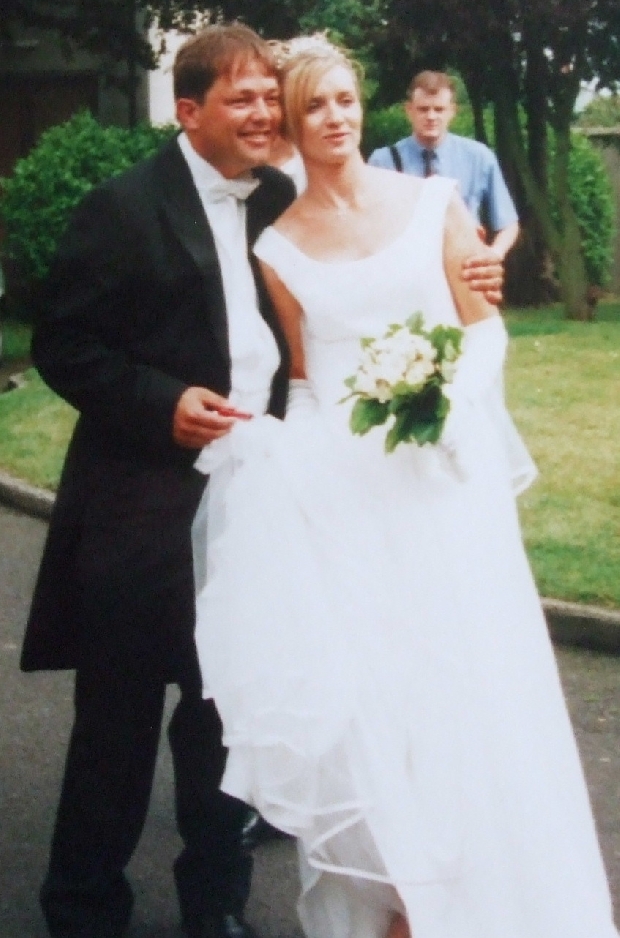 Tanya married Jim Oliver of Carlow in the Cathedral Carlow on the 16th of April 1999. Jim is an engineer with O'Dwyer Consulting while Tanya is a housewife. They have three children boy, James, Aaron and Emma and live in Sandyford Village, Dubin.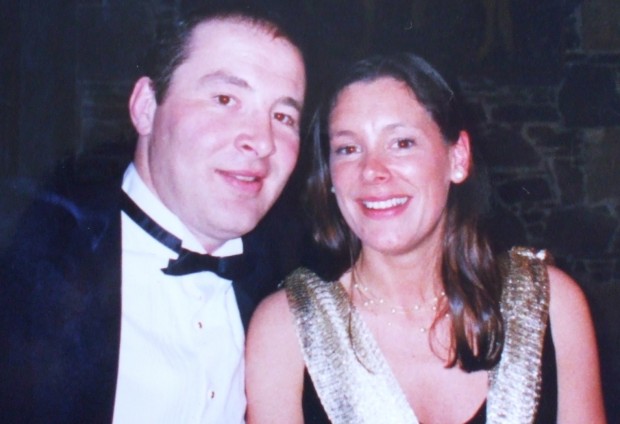 Lesley married Padraig Whelan in the Cathedral in Carlow on the 3rd of March 2001. As well as being a practicing musician, Padriag runs his own music buisness in Carlow and Lesley is a housewife and part time vetinary nurse. They live in Pollerton Manor, Carlow. They have two children, Lauren and Andrew.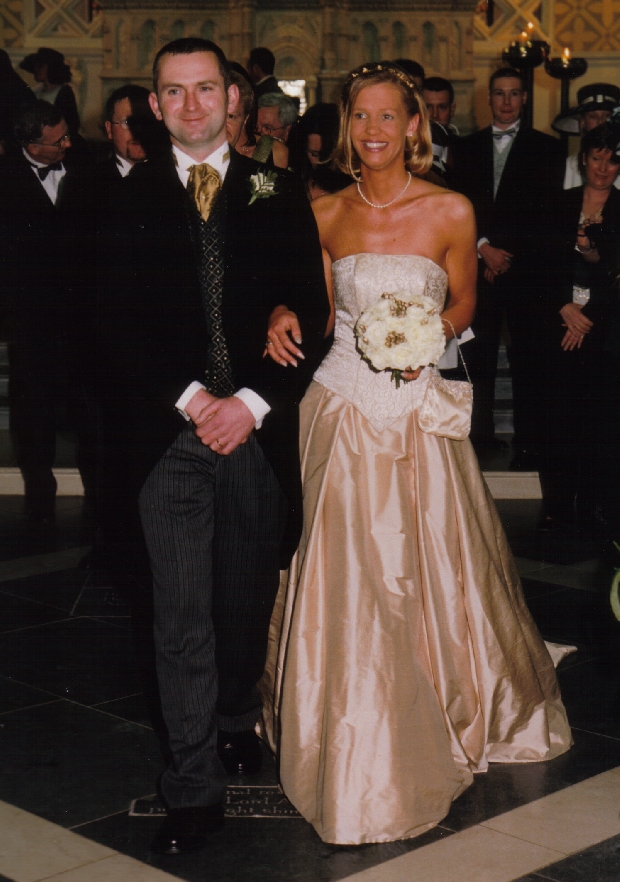 Susan married Rod Lewis on the 21st of May 2005 in New York. Rod is a consultant while Susan works in the publishing industry. Following retirement they moved from Rye in the UK to Le Bec Helloiun in France, where they opened a guest house. They have no children.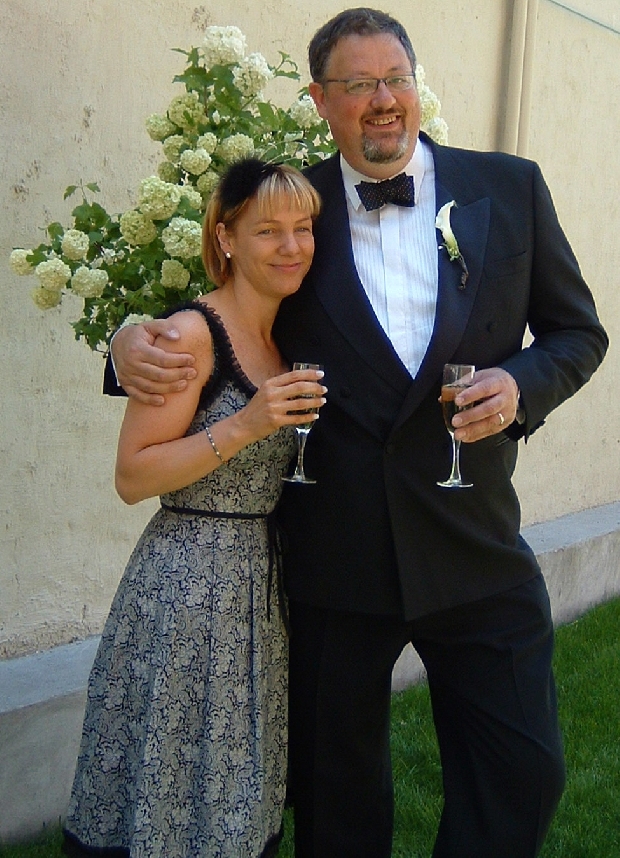 From 1976 onwards Cora spent all of July and August at Cove Cottage in Dunmore East, Co. Waterford, while I joined her for week-ends and for two weeks in July. Since I retired, we seem to spend many of the winter week-ends here as well as May and June.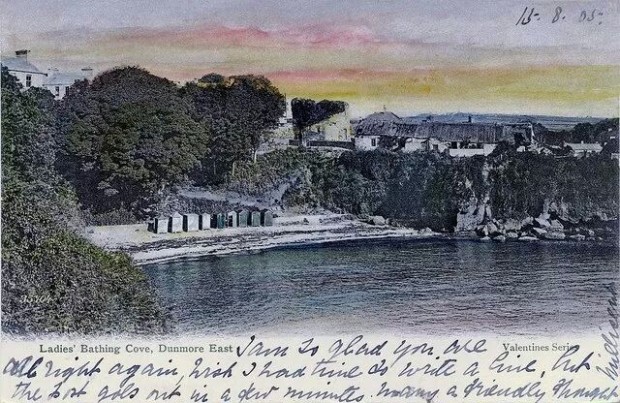 Old photo of Ladies Cove showing bathing boxes for the private dressing of the female bathers
I spent a total of 44 years (1964-2008) working on potato breeding and pathology at Oak Park Research Centre. This was an enjoyable and rewarding experience, especially in the earlier years when it was all research and no administration. We released 34 new potato varieties (Dowley et al., 2008) and I published many scientific papers on potato pathology for which I was awarded the Edwin Butler Medal by the Society of Irish Plant Pathologists in 2004.
As a coincidence, I discovered through a plaque on the wall of St. Andrew's protestant church in Dunmore East that Henry Bruen (1828-1912) of Oak Park, Carlow was also the owner of a summer house called Poulnalinnta on the Dock Rd. in Dunmore East. He held this property for some 27 years. The house is currently (2019) owned by the Mulligan Family.
Poulnalinnta House as it appears in 2016 after many refurbushments
During this period I was also Head of the Plant Pathology Department, then the Plant Pathology & Breeding Department and finally the Plant Science Department which was an amalgam of the original four Departments. This was an impossible task and contributed to my slightly early retirement.
After retirement I remained on as a part time adviser to the Plant Science Research Centre for a year and a half. However, I quickly realised that most of my advice was being ignored, so I decided to concentrate on annoying my wife and playing more golf.
I found the latter most frustrating and the former most enjoyable.
One of the most memorable occasions was the organisation of an International Conference to commemorate the 150th anniversary of the first appearance of potato late blight in Ireland and the resultant "Great Famine" when I was chairman of the Pathology Section of the European Association for Potato Research. This was a week-long conference held in Trinity College Dublin and opened by President, Mary Robinson, the then president of Ireland. It was the biggest plant pathology conference ever held in Ireland, with 600 delegates. It was attended by every world authority on the disease and Cora and I made many lasting friendships as a result. During the course of the next ten years we had the privilege of visiting many of them in places as far afield as Peru, Mexico, Israel and the USA.

President of Ireland Mary Robinson with Leslie Dowley Chairman of Phythophthora 150
RUGBY
From my days in Castleknock I had an abiding interest in all sports, but especially rugby and tennis. While in UCD I continued the rugby interest and played for the first two years with the "Freshers". I occasionally "guested" for Carrick, and most memorably during the captainancy of Paddy Dowley when we won the Garryowen Cup in 1960. The Freshers team won the Minor Cup in 1961, but a serious knee injury put an end to my rugby career in UCD.
Shortly after arriving in Carlow I became involved with County Carlow Football Club. Over the next 44 years I was a player, Coach, Hon. Treasurer, President, Trustee and Honorary Life Member. I was particularly delighted to be part of the Club when it was eventually elevated to Senior status, playing at AIL Division 1 for a number of years. Co. Carlow was the first provincial club to achieve this distinction. As a result of our elevation I was nominated as the first Carlow representative to the Leinster Branch of the IRFU.
I also spent a few very enjoyable years as the Chairman of Selectors for the Leinster Junior XV, winning the interprovincial championship on several occasions. Most memorable was the grand slam win when we had five Co. Carlow players on the Leinster team.
.Over the years Cora (now Granny Coco) has become as interested in rugby as myself and is now a recognised authority on the game. Her sister Geraldine is Hon. Secretary of Garryowen RFC in Limerick.
Two Clubman of the Year Awards presedted to Leslie Dowley by Gerry Gordon (1992-'93) and Jim Brown (1992-'93)
County Carlow won the Provincial Towns Cup five times between 1993 and 1997 and in that last year won the League Round Robin to gain promotion to the AIL for the 1997/'98 season. As a result we were elevated to Senior Club status and were entitled to have a club representitive on the Leinster Branch of the IRFU. County Carlow nominated Leslie Dowley as their first representative on the LBIRFU. At his first meeting of the Branch he was proposed for acceptance by John West (Trinity) and seconded by Rory Barry-Duke (Suttonians). I remained as the club representative on the Leinster Branch IRFU from 1997 until 2009. In 2009 I realised that if I remained on the Leinster Branch I would become President in 2012 when it was Co, Carlow's turn to hold this office. Knowing that I would be over 70 years of age at that time and living 50 miles from Dublin, I came to the view that I would be unable to do the Branch or myself justice. As a result I resigned and persuaded Stuart Bayley to take over as the club representative. He did a much better job than I could ever have done and he was the Presedent in 2012 when Leinster won the European Cup in Twickenham.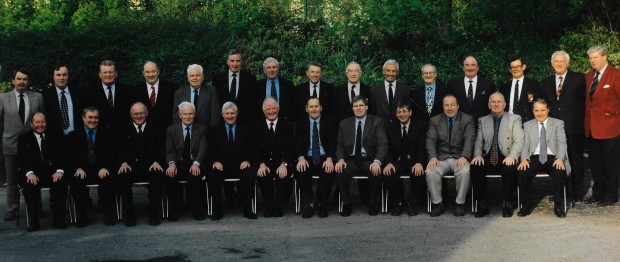 Execurive Committe of the Leinster Branch of the IRFU 1998-'99
Back Row R-L Hugh Woodhouse (Youth Secretary), Brian Brady (Monkstown), Paddy Boylan (Lansdowne), ? (North), Gerry White (Metropolotan Area), Louis McGee (Bective Rangers), Tom Darcy (North Midlands), Pat Cranwell (Blackrock), Paddy Bolger (Hon. Treasurer). John Kirwin (DLSP), ?? (Referees), Mick Wafer (South East), Leslie Dowley (County Carlow), Finbar Crowley (Clontarf), Barry Keogh (Belvedere)
Front Row L-R Rory Barry-Duke (Suttonians), Mickey McLoughlin (Wanderers), Joe Boyle (Jnr. Secretary), Kevin Kelleher (Schools), John Hussey (St, Marys, President), Sandy Heffernan (Hon. Secretary), Caleb Powell (Schools), Peter Boyle (Trinity), Ned Thoronton (UCD), Eddie Wigglesworth (CEO), Ken Ging (Greystones), Pat Fitzgerald (Midlands)
 OTHER ORGANISATIONS
During my term as Chairman of the Carlow Sports & Social Club we built the first squash court in Carlow in the early 1970's and it is still going strong in 2016.
The Carlow Lions Club was started in 1977 and I was the Hon. Secretary for the first three years and then the President. These were very enjoyable years, mainly because of the wonderful people that we members of the club.
Before going to USA in 1973, I spent a number of years on the Executive Committee of Carlow Golf Club, acting as chairman of the Open Week Committee as well as Chairman of the Finance Committee.
COMMERCIAL INTERESTS
My first venture into commercial life was when I was elected to the board of Edward Dowley & Sons Ltd. on June 9th, 1970 to fill the vacancy caused by my grand-fathers retirement. This was soon followed by joining the boards of Castlane Ltd. and Killonerry Estates Ltd. After the sale of Edward Dowley and Sons Ltd I also joined the board of Caymen Investments Ltd. which was a holding company for many of the unsold assets of Edward Dowley & Sons Ltd., particularly the share holding in Odlums Ltd. Finally, I joined the board of Suirway Farm Machinery Ltd. who were main agents for the Massey Ferguson range of farm machinery for much of the south-east of Ireland.