THE TINVANE DOWLEY – KILMACTHOMAS CONNECTIONS
During the eighteenth and nineteenth centuries the Dowleys of Tinvane seemed to have a propensity to marry spouses from the greater Kilmacthomas area. These included members of the Cheasty, Flahavan, Kiersey, Walsh(e), and Shanahan families. The Walsh name was spelt with and without an "e" even in their own burial plot in Newtown cemetery, just east of Kilmacthomas.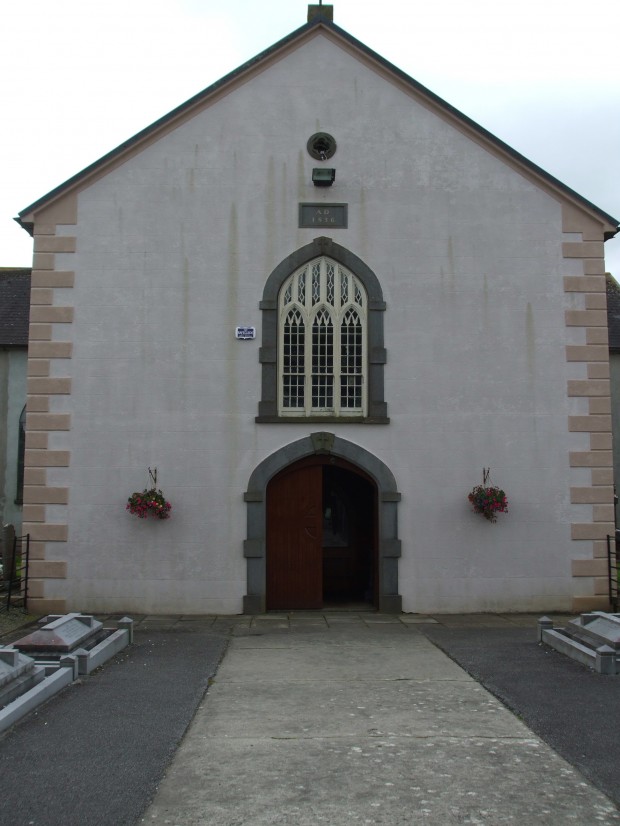 The Catholic Church in Newtown, Kilmacthomas Co. Waterford where the Walshes, Shanahans, Cheastys and Kierseys are buried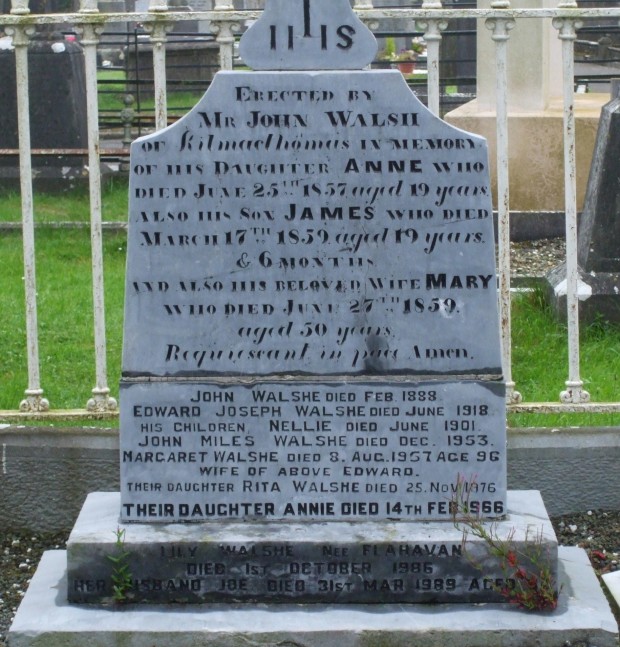 The Walshe Grave in Newtown. Note change in spelling from Walsh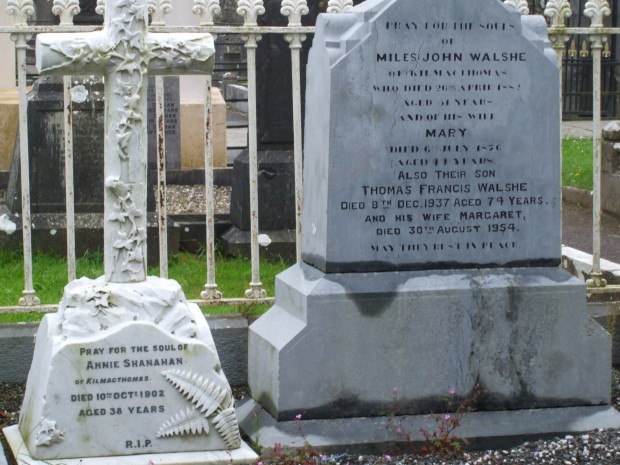 Part of the same Walshe burial plot above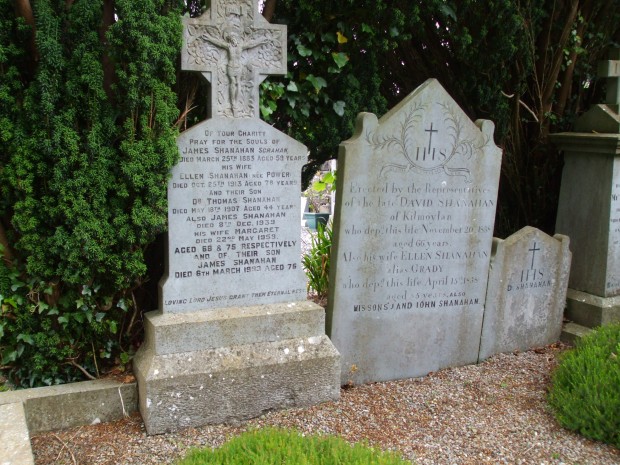 The Shanahan burial plot in Newtown Cemetery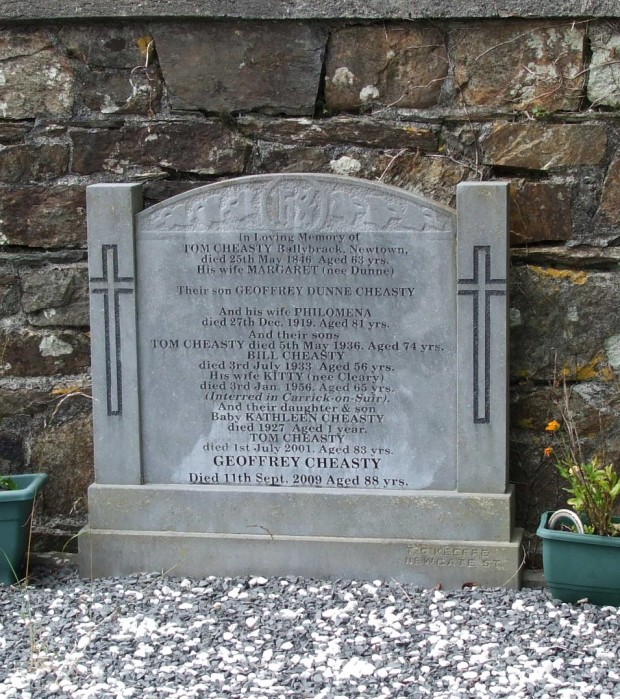 The Cheasty family plot in Newtown cemetery

The fact that these families also intermarried resulted in multiple and complex genetic relationships which are difficult to unravel. An attempt is made in the accompanying trees to relate the Tinvane Dowleys with the Flahavans, Walshes and Shanahans.
The first Tinvane Dowley connection with Kilmac was through the marriage of the first John Dowley (1737-1810) to a Cheasty. Two generations later, John's grand-son, John Dowley (1810-1882) married Bridget Flahavan while his grand-daughter Marion Dowley (John's sister) married a Kiersey.
In the next generation, John Dowley's son, Edward (1855-1945), married Mary Ursula Walsh from Newtown, Kilmacthomas, Co. Waterford. They were married in Kilmacthomas in 1879. However, Edward's name was entered as "Dooley" in the church registry which made the marriage difficult to locate and may have been responsible for Edward's jocose remark at his 50th wedding aniversary that they were never "properly married".
Mary Ursula's mother was a Cheasty while her uncle Michael Walsh of Carrigcastle married Catherine Flahavan and her niece, Agnes Walsh, married Tom Flahavan. Two of her sisters (Annie and Gertie) married Dr. Tom Shanahan while her niece married Willie Shanahan. Dr. Tom's first wife, Annie, was an alcoholic and following a drinking bout she was locked in the bedroom wile the doctor went on his rounds. On his return he found that she had fallen from the bedroom window and broken her neck. In his earlier days Dr. Tom had played rugby for Ireland. He was the first ex-pupil from Castleknock College, Dublin to achieve this distinction. Tom Shanahan (Landsdowne & Waterford) played against England and Scotland in 1885, England in 1886 and Scotland & Wales in 1888.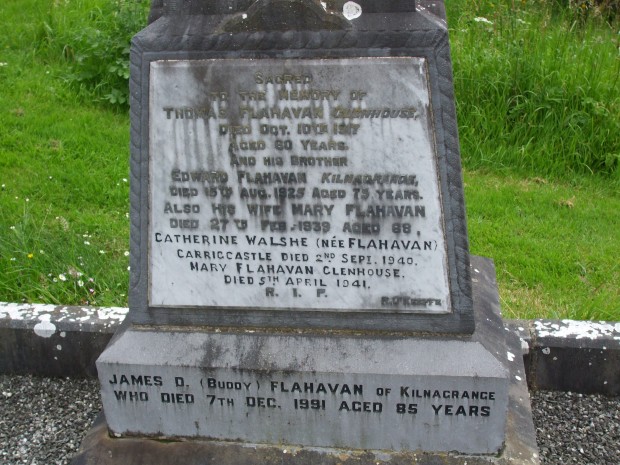 There are many other family connections not mentioned here, but this short account serves to illustrate the complex inter-relationship between the above families. It would appear that the families mentioned may have been part of large social group which could account for high level of inter-marriage.
It is also interesting that burial plots for the Walsh, Cheasty and Shanahan families are beside one another in Newtown cemetery which could suggest that these families whished to continue their relationship in death as in life. There is also a Kiersey plot in the same churchard, but the Flahavans are interred in Portlaw.
The Ballyknock Dowleys also had a Kilmacthomas connection when Johanna Shanahan married Thomas Dowley (1788-1847). This Thomas was a brother of the Rev. Fr. Philip Dowley the founder of Castleknock College. He also built the current house at Ballyknock which was completed in 1847, the year that Thomas died.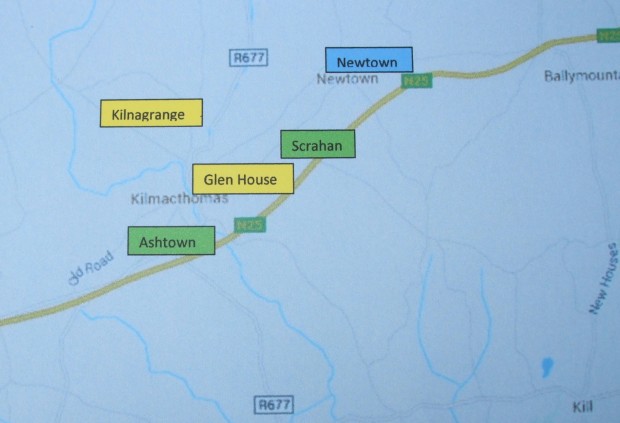 Main residents of Flahavans (yellow), Shanahans (green) and Walshes (blue)