TYBROUGHNEY DOWLEY HISTORY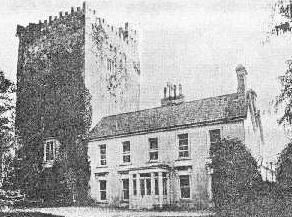 Tybroughney castle is located in south Kilkenny, on the back road, half way between the Three Bridges and the village of Piltown. Situated on the northern bank of the river Suir, it commands a strategic view over a long stretch of the river valley, including parts of counties Kilkenny, Tipperary and Waterford. It is thought that Tybroughney may have been the end of the tidal area of the Suir in earlier days
Tybroughney grew and developed around an early monastic settlement founded by St. Madomnec from Wales in the 6th century with its accompanying industries. It was inhabited by the Vikings during the 10th century and the first fortification was thought to be a wooden structure. The first stone structure was completed in 1185 on the instructions of Prince John, later to become King of England.
It is thought that the castle was rebuilt or got a major refurbishing in the fifteenth century. During the sixteenth and seventeenth centuries the castle was in the hands of a Butler of Ormond know as Viscount Montgarret. After the Cromwell invasion the Mountgarrets were dispossessed but were later reinstated by King Charles II.
In the eighteenth century Tybroughney was in the hands of the Brisco family who had served in Cromwell's army. In 1753 Henry Whitby Brisco was born in Tybroughney and he was later to become the first of many Briscos to occupy Tinvane House. By the early 1800's Tybroughney was occupied by the Rivers family who were closely related to the Briscos. By 1884 the castle was in the hands of the Power's of Bellevue, Waterford, who had leased the property to the Lynch family from Dublin who built the current house which is attached to the castle.
Louis Dowley acquired Tybroughney in the early 1900's, but when exactly that happened and who he bought it from is not known to me at present. What is significant however, is that Tybroughney Castle is now the only one of the many original Dowley residences that is still occupied by a Dowley family (Louis, a grandson of the original Louis, and his wife Daphne).
Louis Dowley (1889-1966): Louis was the sixth son of Edward and Ursula Mary Dowley of Tinvane House, Carrick-on-Suir, Co. Tipperary (see Tinvane Dowley History). Like the rest of the family, Louis received his initial education in Tinvane and Carrick-on-Suir. He received his secondary education at St. Edmund's College in the UK where his athletic prowess was legendary, holding the long-jump record for many decades. After leaving school, Louis spent some time in New Zealand studying agriculture. Thereafter he farmed at Tybroughney in south Kilkenny. He married Kathy Rowe in 1915 (who was a first cousin of Joe's wife, Kathleen Hickey) and lived in Tybroughney Castle. They had 9 children Marjorie, Dermot, Maylon, Myles, Kathleen, Dorothy, Aline, Robert and Paddy. He died aged 77 and is buried in the Piltown cemetery. The following is a short pen sketch of Louis & Cathy's nine children.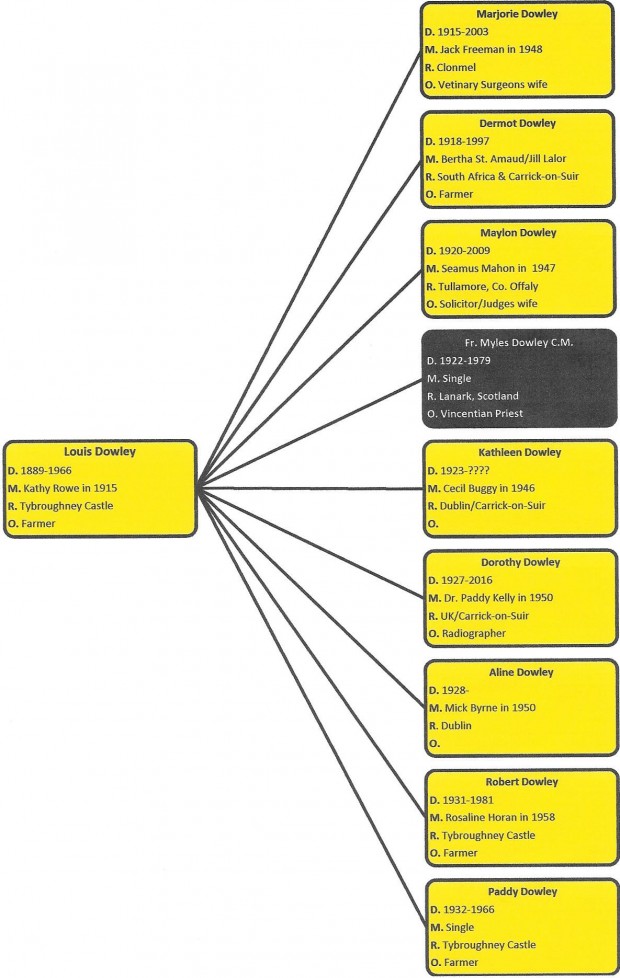 Children of Louis & Cathy Dowley of Tybroughney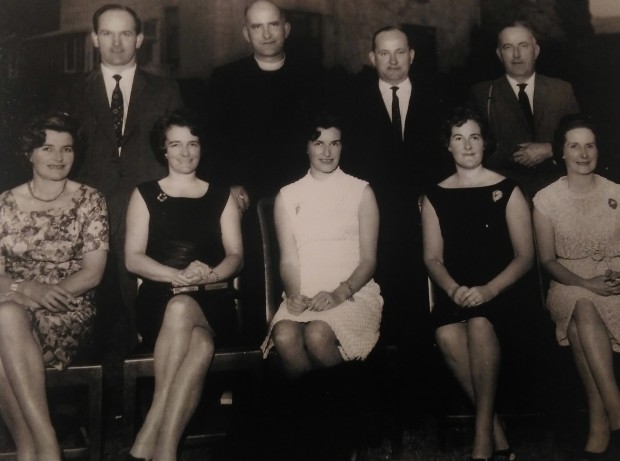 Standing: Robert, Myles, Paddy and Dermot Seated: Marjorie, Kathleen, Aline, Dorothy and Maylon
Margaret Mary (Marjorie) Dowley (1915-2003): Marjorie was the first of the nine children of Louis and Kathy Dowley of Tybroughney Castle. She married Jack Freeman, a vetinary surgeon, in 1948 and they settled in Clonmel. They had four children, David, Denis, John and Jeremy.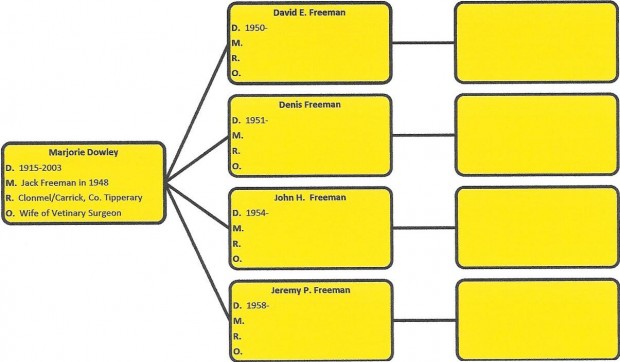 Edward M. Dermot Dowley (1918-1997): Dermot was the eldest son of Louis and Cathy Dowley. He was educated in Carrick and later in Castleknock College, Dublin. Just before the outbreak of the second world war, when he was still a young man, Dermot emigrated to South Africa where he farmed extensively for nearly forty years. While in South Africa he married Bertha St, Amaud and they had five children, Maylon (b. 1947), Gillian (b. 1948), Louise (b. 1949), Myles (b. 1950) and Oiylgs (b. 1951).
In the late 1970's he decided to return to Ireland for good, and he bought some land and the "Cottage", at Deerpark, Clonmel Rd., Carrick-on-Suir. He returned to South Africa on an regular basis to visit his family and to bring back to Ireland the maximum annual amount of his SA assets that he was permitted to take out of the country. While in Carrick he struck up a relationship with a Mrs. Nore Wilson, who was a horse trainer in Co. Carlow. This relationship persisted until Mrs Wilson eventually died. A shot time before his death, Dermot married an artist named Jill Lalor and they moved to Whitechurch, Co. Kilkenny. The house bordered the land of his uncle Joe Dowley of Castlane. Dermot died in 1997 and is buried in Piltown.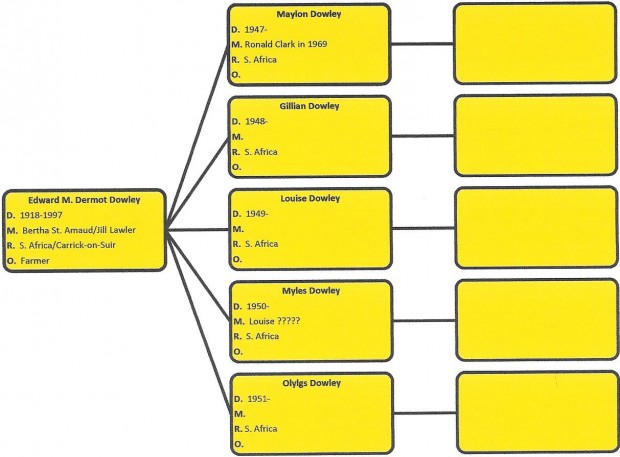 Mary Francis (Maylon) Dowley (1920-2009):  Maylon married Seamus Mahon in 1946 and I (Leslie) was a page boy at the wedding while Rosemary Rossiter was a flower girl. Seamus was educated in Clongowes Wood College and later became a solicitor in Tullamore. In 1976 he was appointed to the District Court bench and served as the resident judge in the Laois/Carlow and south Kildare District. Seamus and Maylon lived in Clonmelch, Tullamore, Co. Offaly and they had four sons, Brian, Allan, Raymond and Dermot, all of whom followed their father into the legal profession.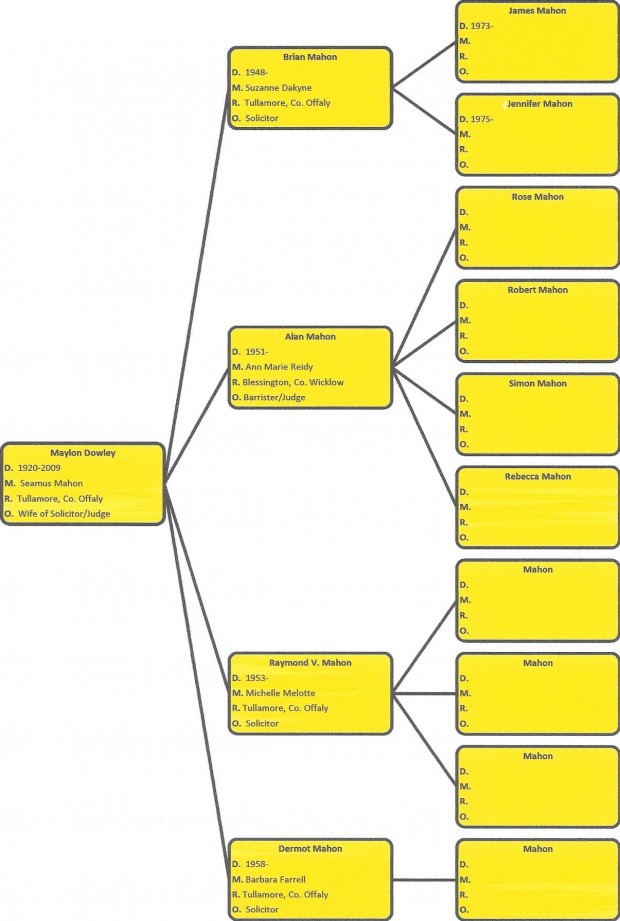 Fr. Myles Joseph Dowley CM (1922-1979): Myles was born on the 7th of April 1922 as the fourth child of Louis & Kathy Dowley of Tybroughney Castle. He received his initial education in Carrick-on-Suir and his secondary education in Castleknock College, Dublin from 1936 to 1940 where he was an honours student with a great love for rugby. On leaving Castleknock he entered St. Joseph's seminary in Blackrock with a view to becoming a Vincentian priest. During his stay at St. Josephs (1940-1948), he took a degree in English and his knowledge of English was the foundation of his easy approach to the art of preaching. Preaching became his life. He was ordained a Priest by Archbishop John Charles McQuaid in the Pro-Cathedral, Dublin, on the 22nd of May 1948.
His first appointment was to Castleknock College (1948-1949) where his two younger brothers were students at the same time. From 1949 onwards he devoted his life to the missions, based mainly in the UK. He was forthright, blessed with a powerful voice, — a great asset when amplification systems were in their infancy — a very clear mind, a compelling presence and an extraordinary gift of compassion for wayward humanity. From 1949-1952 he was based in the Sacred Heart Parish in Mill Hill, London and from 1952-1958 in St. Mary's in Lanark, Scotland. In 1958 he returned to Ireland and from 1958-1964 he was based at St. Vincents in Cork city. From 1964 to 1970 he returned to the parish of Mill Hill as Superior, a position that he did not relish as administration was not his forte. However, the parishioners of Mill Hill greatly appreciated Myles and his genuine efforts to further their interests; and there was general regret in the parish when he was appointed to Lanark in 1970. They had lost a dedicated Parish Priest and a personal friend. He was to remain in Lanark, serving the missions until his death in 1979. He gave his last Irish mission in Castleconnor, Ballina, — preparation for Pope John Paul's visit. He was in the Phoenix Park on this great occasion, and returned to Lanark to prepare for the novena in honour of Our Lady of the Miraculous Medal at St Peter's, Phibsborough. As he prepared for this Novena, God called him home.
Myles had a great love for his family. He was in constant touch with them by letter, and whenever he got a 'spare few days in Ireland, he would mount his motorbike and head for Carrick, Tullamore, Kilkenny, Clonmel or Porterstown bringing to all his brothers and sisters and their families his love and affection.
Kathleen Dowley (1923-2005):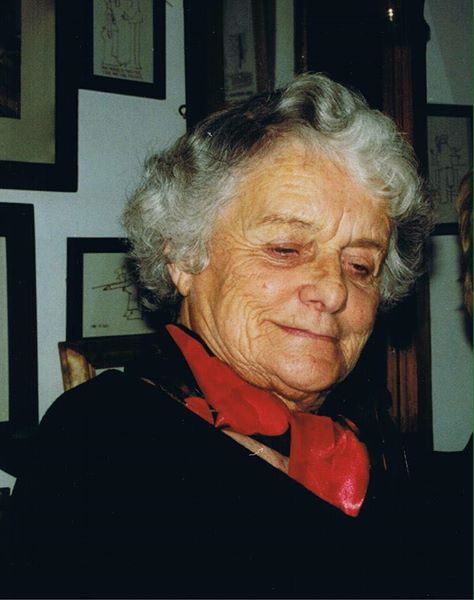 Kathleen was born in 1923 as the fifth child of Louis and Kathy Dowley of Tybroughney Castle, near Piltown in Co. Kilkenny. She married Cecil Buggy in 1946. Cecil graduated from Trinity College Dublin with a degree in civil and mechanical engineering. During the second world war he was an officer in the Irish army and air corps. After the war, Cecil conducted a successful engineering business in Dublin. Cecil and Kathleen had four children, Ken, Michael, Fiona (Min) and Simon.
Cecil died at the tender age of 55 in Dublin in 1978. After his death Kathleen moved to Kinsale for a while before returning to Carrick-on-Suir where she remained until her death in 2005. They are survived by their four children, ten grand-children and a number of great grand-children, all of which can be seen on the Tybroughney tree at the beginning of this section.
The first three generations of the Tybroughney Buggys
Dorothy M. Dowley (1927- 2016):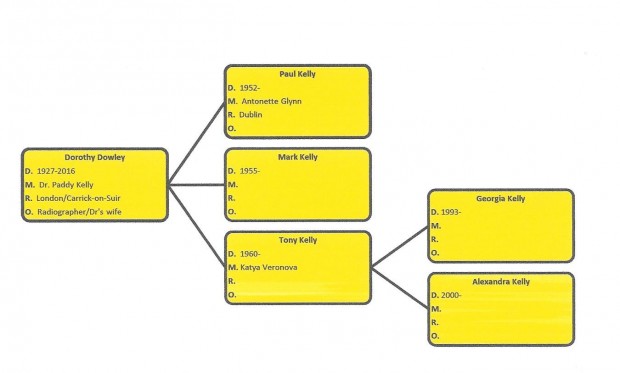 Aline Dowley (1928-):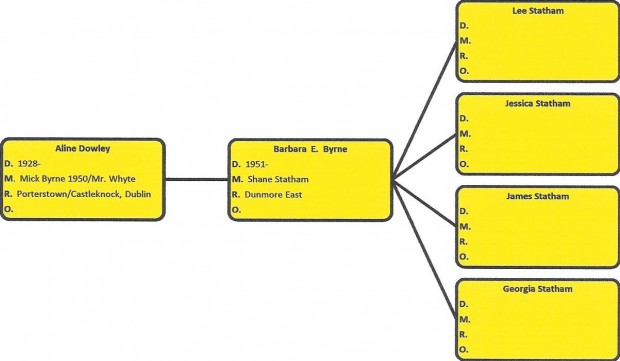 Robert L. Dowley (1931-1981):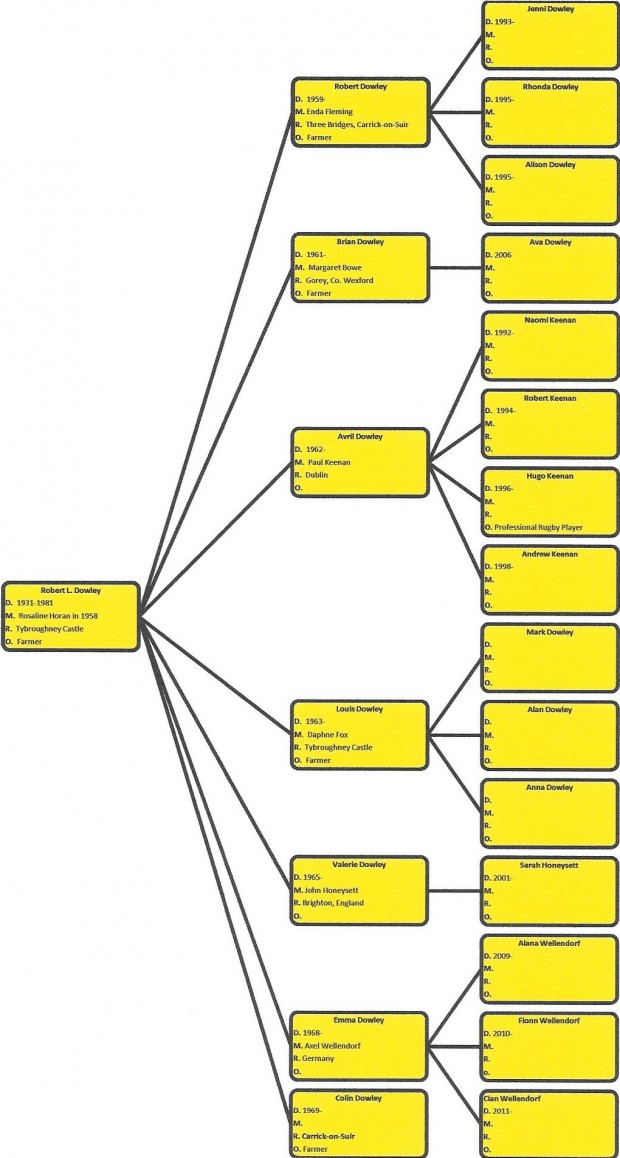 MUNSTER TEAM THAT DREW WITH AUSTRALIA IN 1958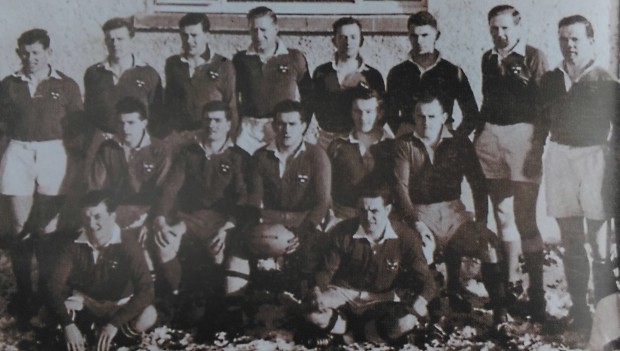 Back Row: M. O'Connell, M. Spillane, N. Murphy, T. Nesdale, D. Geary, D. McCormack, T. McGrath & R. Dowley. Seated: J. Walsh, M. English, G. Wood (Capt.), R. Hennessy & F. Buckley. Front Row: M. Mullins & S. Quinlan
CARRICK RFC WINNERS OF GARRYOWEN CUP 1960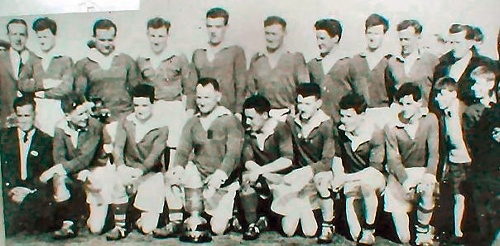 Back Row: Dr. Paul O'Brien, Michael Cleary, Robert Dowley, Dick Phelan, Jim McGrath, John Connolly, Michael O'Dwyer, Tom Morrissey, Tom Cleary, Liam Hogan Front Row: ????, Gerry Cleary, Mick O'Keeffe, Paddy Dowley (Capt.), Tom Foley, Michael Mullins, William Galvin, Leslie Dowle